About the Workshop


The Workshop on Pulmonary Image Analysis brings together researchers in pulmonary image analysis to discuss recent advances in this rapidly developing field. Many imaging modalities are currently available to study the lungs, including radiography, CT, PET and PET/CT, MRI and more. We invite papers that deal with all aspects of image analysis of pulmonary image data, including segmentation, registration, quantification, computer-aided detection and diagnosis of lung disease, modeling of the image acquisition process, visualization, statistical modeling, biophysical modeling of the lungs (computational anatomy), lung image analysis in animals, and novel applications.

A segmentation challenge called LOLA11 will be part of the workshop. Teams can download chest CT scans and send in lung and lobe segmentations. Please visit http://www.lola11.com for all information regarding this challenge.



Workshop Proceedings


You can order the workshop proceedings here.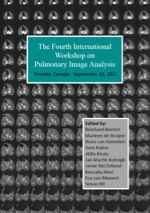 Organizers


Reinhard Beichel
Department of Electrical and Computer Engineering, Department of Internal Medicine, and The Iowa Institute for Biomedical Imagaing, The University of Iowa, Iowa City, USA

Marleen de Bruijne
Biomedical Imaging Group Rotterdam, Erasmus MC, Rotterdam, The Netherlands, and Department of Computer Science, University of Copenhagen, Denmark

Bram van Ginneken
Diagnostic Image Analysis Group, Radboud University Nijmegen Medical Centre, Nijmegen, The Netherlands

Sven Kabus
Philips Research Laboratories, Hamburg, Germany

Atilla Kiraly
Siemens Corporate Research, Princeton, USA

Jan Martin Kuhnigk
Fraunhofer MEVIS, Bremen, Germany

Jamie McClelland
Center for Medical Image Computing at University College London, London, United Kingdom

Kensaku Mori
Strategy Office, Information and Communications Headquarters, Nagoya University, Japan

Eva van Rikxoort
UCLA Radiological Sciences, Los Angeles, USA

Simon Rit
Université de Lyon - CREATIS, Villeurbanne, France




Contact


lungworkshop2011@iibi.uiowa.edu


Sponsors
Gold



Silver